Dr. Goldenberg, Founding Physician of Manhattan Hematology Oncology Associates (MHOA), graduated Magna Cum Laude from Brandeis University with High Honors in Mathematics, before receiving his MD from The Johns Hopkins University School of Medicine in 1980. He completed his internship and residency at Bellevue-New York University Hospitals, where he was also Chief Resident. Dr. Goldenberg continued his training as a fellow at Memorial Sloan Kettering in New York City before becoming the Director of the Hematology Clinic at the NYU Medical Center. Board certified in Internal Medicine and Medical Oncology, Dr. Goldenberg is currently a Clinical Associate Professor of Medicine at the New York University School of Medicine, and an Attending Physician at New York University Medical Center. Dr. Goldenberg has continued to develop his strong relationship with NYU Medical Center since establishing his private practice 13 years ago, and he is currently the NYU Center's Director of the Hepatoma Tumor Study Group.
Dr. Goldenberg was awarded the 'Top Doctors Award' by New York Magazine in 2013, the 'Top Ten Doctors Award NY-Hematology' by Top Ten™ in 2012, and the 'Top Doctors New York Metro Area' awards by Castle Connolly from 2014-2017. Dr. Goldenberg was chosen for The Best Hematologist in New York Award by New York Magazine in 2016, 2017, and 2018, read more. Dr. Goldenberg invited Dr. Karen Haglof to join Manhattan Hematology Oncology Associates in 2006, and together with the support of a team of highly motivated and caring nurses and support staff, they are dedicated to providing the best possible cancer care through a compassionate and personalized approach.
Beach Silver, Physician Assistant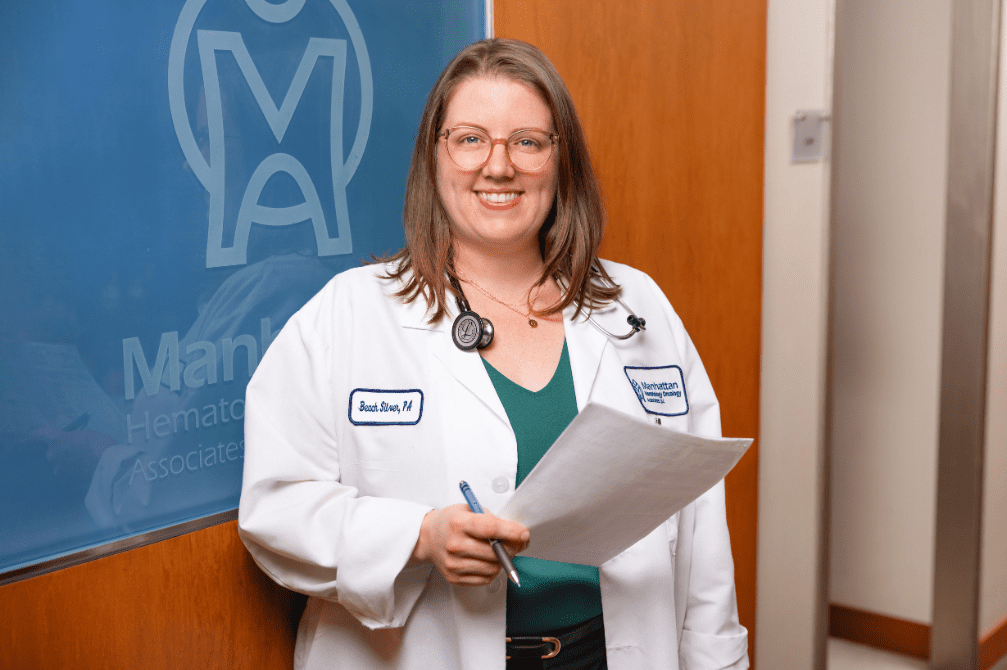 Beach Silver is a dedicated Physician Assistant with seven years of experience in hospital and private practice hematology/oncology who offers compassionate, and patient-focused care.
Beach comes to Manhattan Hematology Oncology Associates from Weill Cornell Medicine/NewYork-Presbyterian Hospital after training at Northwestern University. She brings extensive research and clinical experience to the patients she sees at MHOA.
Beach is a member of the Association of Physician Assistants in Oncology, New York State Society of Physician Assistants, and The American Academy of Physician Assistants.